Register for a race and restore the eyesight of one person in Africa at the same time!
Since 2009, we have been a charity partner of the RunCzech running series. By purchasing race registration through Světlo pro svět (Light for the World), you will always contribute to at least one eye surgery in Africa. By purchasing a race number through our organization, you are helping to restore sight and finance eye care projects in Ethiopia, Burkina Faso, South Sudan, Uganda and the Democratic Republic of the Congo.
Since the beginning of our cooperation with the Prague International Marathon, we have received millions of crowns in donations, thanks to which we have performed thousands of cataract and trachoma surgeries. Thank you!
For only CZK 800 (about 30 EUR), we can restore sight with cataract surgery, or for CZK 400 (about 15 EUR), we can remove the consequences of the second most common cause of blindness – trachoma.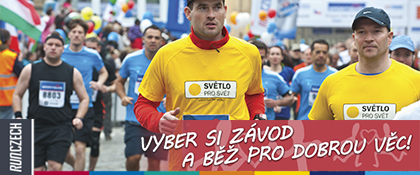 You can support us by purchasing a number for these races:
| | | | |
| --- | --- | --- | --- |
| 1/2 Marathon Prague 2023 | April 1st, 2023 | 2.350,- Kč | CLOSED |
| Prague International Marathon 2023 | May 7th, 2023 | 2.850,- Kč | CLOSED |
| Diplomatic Cup | June 27th, 2023 | 3.800-5.400,-Kč for a team (info below) | only one person registers HERE for the entire race, see info below |
How can your run help?
By purchasing a charity start number from us. Registration for all open races is possible by clicking on the link above.
You can become our Dobroběžec and organize a fundraising action among friends, colleagues and family to restore sight of more people. Do you have the guts to do it? For more information, please send an e-mail to: info@svetloprosvet.cz.
Run in our t-shirt. Who wouldn't like yellow 🙂
If the race at RunCzech and our organization is sold out and you cannot get a starting number from other non-profit organizations either, try contacting us and joining the waiting list. Maybe someone won't pay their registration or won't be able to run in the end. Write to info@svetloprosvet.cz.
Registration step-by-step:
Fill in the registration form and send it. Each runner must register separately, only one registration per race is possible for one email.
You automatically receive an email with unique variable symbol (VS), account number and the amount of money (the entry fee) – it is necessary to use correct VS, otherwise there will be troubles in matching your payment.
Please pay the entry fee within 3 days, then you'll receive an automatic reminder. If we won't receive your payment within another 2 days. your registration is offered to a next runner.
After the payment is matched on our bank account (within 5 working days with a correct VS), you receive the second email with the charity registration code and further instructions.
Follow the instructions given in the second email – register your charity code on www.runczech.com/en/, where you create your ID and get your starting number.
You can pick up your starting number before the race directly from RunCzech.
Registration for Diplomatic Cup:
Only one person registers for the entire team. Afterwards he will receive an e-mail with a request for payment and a variable symbol. Subsequently, he can pay the amount at once, or each runner can send a payment for himself – but all payers must use the same variable symbol. After the payment, you will receive a code for the race and with it all four runners will register on the RunCzech website in the Diplomatic Cup category.
For registration, you can choose from three different variants with different prices:

Basic – the price includes one cataract surgery – 3.800,- Kč for a team
Silver – price includes two cataract surgeries – 4.600,- Kč for a team
Gold – the price includes three cataract surgeries – 5.400,- Kč for a team